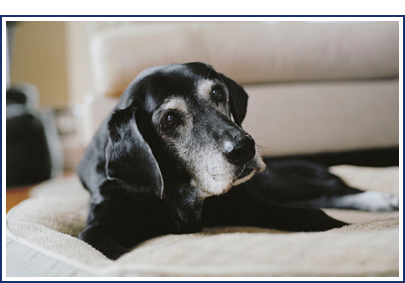 Hospice and palliative care for pets is very similar to the in-home hospice care available for terminally ill people.  Gift of Goodbye's hospice service is for pets in the later stages of terminal illness or those experiencing a decreasing quality of life due to aging or other debilitating illness.  Hospice is focused on caring, not curing, with the goal of providing the best quality of life possible for your pet in his or her home environment during the remaining time you share together.  Through hospice, this time may be experienced with compassion, peace and dignity until natural death occurs or the decision for euthanasia is made.  We at Gift of Goodbye understand that having a pet with a terminal illness and/or declining quality of life also profoundly impacts the owner(s) and other loved ones.  Therefore, we offer support, guidance and education to the family or other caregivers throughout the hospice period.
Gift of Goodbye's initial home visit includes a history and review of your pet's medical records, observation of your pet and their environment, a physical examination and a discussion of your expectations, concerns, and fears regarding the remaining time you have to spend with your pet.  At that time, we will determine together if hospice care is the best decision for you and your pet.  If hospice care is appropriate, Gift of Goodbye will work with you to provide an individualized treatment plan for your pet, including the following, as needed:
Nutrition

Hydration

Pain management

Mobility issues

Hygiene

Wound management

Assessment of quality of life 

We will help you with difficult decisions that arise by offering you our expertise and support through each step of the process.  If at any time, the decision for in-home pet euthanasia is made, we will come to your home when you need us to facilitate your pet's peaceful passing.