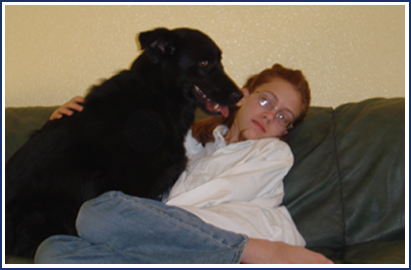 Jamaica, My Dearest Friend
By Skye Rallison, 2013

What I remember best about you
Was your black fur and kind brown eyes.
I never knew what you had in store for me.
I never knew you would change my life.
When you were at the animal shelter,
You were called by the name "Pups".
It was later changed to Jamaica.
I don't know how much love I gave you then,
But I hope I gave you enough.
My dad, sibs, and I couldn't wait to take you home.
But then you had puppies and had to stay.
We waited for you since that day.
We had patience waiting to get you.
After many days of waiting, we finally brought you home.
You spent time getting used to C.B. from the start.
You didn't need to check out Kappi.
You two were best friends, who loved each other with your hearts.
I loved walking with you
In the desert, the parks, or around the block
You didn't care who walked you
As long as you were with someone, it didn't matter much.
On the days of Halloween,
You were always a black cat.
You didn't need a costume.
You achieved it without assistance; that's a cool fact.
Whenever you wanted attention,
You pushed your nose in the space between someone's elbows
You used numerous ways to earn pats and hugs.
For a dog, you were pretty mellow.
You loved hiding under things.
Either a desk, Jonah's bed, or table,
You didn't care where it was.
You went to where you wanted to be when you were able.
You shed fur everywhere in the house.
Every day, you had to get brushed.
I didn't care about your fur being in the house.
But Mom and everyone else? Not so much.
On the day before Mother's Day,
You had to be put down.
I kept petting and hugging you.
I wanted you to still be around.
Now that you're gone, the house is quieter, you know.
Besides the pets and my family, I am still alone.
I still remember crying into your fur that day.
I didn't want to let you go.
Now that you're in heaven, with your friends and the other family pets,
I'm glad to know that you're happy there.
I don't regret the day when we first met.
Can you wait for me in heaven, my faithful dog?
I will work my hardest to get there and endure to the end.
God be with you till I see you again,
Jamaica, Jamaica, my dearest friend.